Who Yale Honors
Berkeley College
Calhoun College
Davenport College
TD College
JE College
Morse College
Pierson College
Saybrook College
Branford College
Silliman College
Stiles College
Trumbull College
Divinity School
Law School
Street Hall
Woodbridge Hall
Yale Map
Pierson College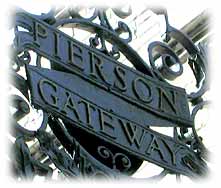 Yale was founded by colonial clergy, such as Abraham Pierson and Timothy Woodbridge.
Abraham Pierson was appointed by Yale's original trustees as the first rector (or president) of Yale college, from 1701-1707. He served concurrently as the minister of the Killingworth (now Clinton) Congregational church, where Yale college was based during his tenure.
It is uncertain whether Abraham Pierson owned any slaves. Pierson's successor at the Killingworth church, Rev. Jared Eliot, owned slaves and created Yale's first library endowment.
Numbers in parentheses refer to notes. See the notes page.