The Story of Yale Abolitionists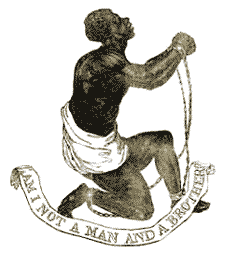 Slavery existed for 200 years in Connecticut. Colonists rarely questioned their reliance on slave labor. Only as the revolution approached did resistance to slavery grow. Connecticut African-Americans demanded that the General Assembly grant their rights and repeatedly drew attention to the inconsistency between the revolutionary ideal of universal equality and the institution of slavery. A growing number of white colonists raised their voices in opposition to slavery, among them several Yale graduates.
Samuel Hopkins, who graduated from Yale in 1741, became a Congregationalist pastor in Newport, Rhode Island, a center of New England's slave trade. Once a slave owner himself, by 1776 he had become an uncompromising abolitionist. Stories like his fanned the hope of many early abolitionists that one of the first acts of their new nation would be to ban slavery.
James Hillhouse, who graduated from Yale in 1773, participated in a congressional committee to investigate the abolition of the slave trade in 1799. When it became clear that the goal of emancipation would require a protracted struggle, he sought to prevent the expansion of slavery in Louisiana and to limit the political power of slavery's supporters.
In Connecticut, African Americans' demands for immediate and unconditional emancipation were not realized until 1848. Instead, the State of Connecticut passed an act of Gradual Emancipation in its first session that ruled that the children born to enslaved parents after March 1, 1784, would be freed at the age of 25. In the face of these cautious encouragements, African-Americans and their allies continued to organize. They sent petitions to the General Assembly and to local governments demanding the right to vote; they built schools; they organized churches.
In New Haven, Simeon Jocelyn, a white pupil of Yale professor Nathaniel Taylor, became the first pastor of the Congregational church for African Americans in the 1820s. Using this church as a foundation, Jocelyn and his congregants organized a comprehensive Sunday school in the 1820s and an elementary school in the 1830s. The most visionary project to come out of the church, however, was a plan for a "Negro college" in New Haven, which would have become the first institution of higher education serving African Americans in the country.
Jocelyn expected some opposition to the plan, but he had underestimated its scope. In a matter of days after he outlined his ideas in a public lecture, Mayor Dennis Kimberly (Yale 1812) called a town meeting. A committee of thirteen presented a resolution to oppose the college by "every legal means." It was a formidable group, a 'who's who' of the legal and political elite of New Haven and Yale. It included Yale's only professor of Law, David Daggett, a once and future member of the Yale Corporation; Samuel Hitchcock, with Daggett, one of the founders of Yale's law school; Judge Bristol, another former Corporation member; and Isaac Townsend, who would later join Daggett and Hitchcock as a Yale law school professor. The opposition was overwhelming, and Jocelyn's dream of a "Negro college" flourishing alongside Yale ended with a 700 - 4 vote against it.
One of the three individuals supporting Jocelyn at the town meeting was Roger Sherman Baldwin, a Yale graduate and a New Haven lawyer. The decade that followed was very difficult: Jocelyn's house was wrecked by a mob, Jocelyn was forced to stop officiating at the Congregational church, and the contingent leading the campaign against the "Negro college" passed other resolutions condemning abolitionism in Connecticut.
At the end of the decade, Simeon Jocelyn and Roger Sherman Baldwin were together again. This time, they found themselves working together to help free the Amistad captives. The captives were a group of West Africans who had been kidnapped and sold into slavery in Cuba, had mutinied, and gained control of their vessel. In their attempt to return to Africa, they were re-captured and jailed in New Haven in 1839. Jocelyn and Baldwin were instrumental in securing first local, then national support for the captives. The case was appealed to the Supreme Court, where former U.S. president John Quincy Adams won their freedom. The Amistad affair cast a spotlight onto the horrors of the slave trade at a critical moment and struck a damaging blow to the pro-slavery cause.
These tumultuous years at Yale produced three influential anti-slavery agitators.
James Pennington, an escaped slave from Maryland, had attended the Philadelphia convention at which Jocelyn unveiled his proposed "Negro college." He attended Yale classes (although Yale refused to allow him to enroll or to use the library), and went on to be one of Connecticut's strongest advocates against slavery and for education.
Cassius Clay (Yale 1832) heard William Garrison speak in New Haven in favor of the Negro College and the abolition of slavery. Clay recalls the speech as a turning point in his life; he became an advocate of gradual emancipation in Kentucky, founded a pro-emancipation newspaper and purchased a large tract of land to remain free soil.
The following year's Yale class included Charles Torrey (Yale 1833), who ten years later headed to Baltimore to establish a station on the underground railway. He assisted in the escape of nearly four hundred slaves before he was arrested. Sentenced to six years of hard labor, he died of tuberculosis at the age of 33 in a Baltimore prison.
The victories of Yale's abolitionists are not commemorated by the names of campus buildings--only Samuel Hopkins has a wing of a Divinity School building named after him. This is all the more surprising when we consider that ten residential colleges, built in the 1930s or later, are named after historical figures who achieved prominence before the Civil War, and nine of these ten are named after people who either held slaves or published pro-slavery views.