Yale Abolitionists
Yale Abolitionists
Samuel Hopkins
James Hillhouse
Simeon Jocelyn
The Amistad Affair
James Pennington
Charles Torrey
Cassius Clay
1856 Kansas Meeting
James Pennington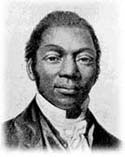 Kurt Schmoke, the current Sr. Fellow of the Yale Corporation, in a 1971 article based on his Yale senior essay, described the efforts from 1834-38 of James Pennington, the first black pastor of New Haven's Dixwell Avenue church, to get a Yale education so he could receive a ministerial license:
Yale refused to allow Pennington to enroll in the seminary and even prohibited him from withdrawing books from the library. They did, however, accede to his desire to audit courses, and for four years Reverend Pennington worked with these handicaps to attain the educational requirements for licensing as a Congregational minister (137).
James Pennington had escaped from slavery in Maryland in 1827. He headed north as a fugitive, and in 1831 was a delegate to the first annual "Convention of Free Coloured Persons," the same convention that had approved Simeon Jocelyn's vision of the "Negro college." He later published his own life as a slave narrative-The Fugitive Blacksmith-and became one of America's most renowned anti-slavery spokesmen.
His career as an abolitionist focused on education, about which he said, "There is one sin that slavery committed against me, which I can never forgive. It robbed me of my education; the injury is irreparable" (138).
There is no building on the Yale campus that honors James Pennington.
Numbers in parentheses refer to notes. See the notes page.