Endowments
First Professorship
First Scholarship Fund
First Library Fund
First Endowment Drive
The First Library Fund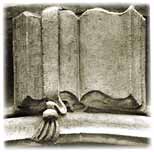 The Rev. Jared Eliot of Killingworth (Yale 1706) was one of Yale's earliest graduates. He became Abraham Pierson's successor at the Killingworth church and also served as a member of the Yale Corporation for 33 years, from 1730-63. His fame spread after he published treatises on agricultural studies.
Eliot was also a slave owner; slave labor was in part responsible for his agricultural success.
Rev. Doctor Jared Eliot had a Negro slave, named Kedar, and Kate, his wife. One Monday, on a Spring morning, he took them to a house and farm, two or three miles from the landing, in Killingworth, where he resided, and gave them provisions and tools, telling Kedar what work he should do. Next Monday, he rode over to the farm, to see them. He finding none of the work done, called Kedar to account. (25)
After a long and successful career, Rev. Eliot died in 1763. His will "gave the first funds for the support of the College Library," by creating a £10 foundation for buying books (26). Slave labor contributed towards the financial foundation of the Yale library system.
Numbers in parentheses refer to notes. See the notes page.