Who Yale Honors
Berkeley College
Calhoun College
Davenport College
TD College
JE College
Morse College
Pierson College
Saybrook College
Branford College
Silliman College
Stiles College
Trumbull College
Divinity School
Law School
Street Hall
Woodbridge Hall
Yale Map
Jonathan Edwards College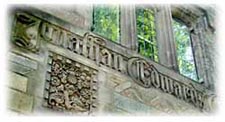 The century's most famous American preacher and theologian, Jonathan Edwards the Divine, himself "owned several slaves: Joseph and Lee, a woman named Venus, purchased in 1731, and, listed in the inventory of his estate in 1758, a 'negro boy' named Titus" (5).
Jonathan Edwards owned slaves until the day he died. In 1759, Timothy Dwight and Timothy Edwards executed the will of Jonathan Edwards when they, for a total of £23, "sold, conveyed and in open market delivered two negro slaves, viz.: the one a negro man name Joseph, the other a negro woman named Sue, and is wife to the said Jo, which slaves were lately the proper goods of said Jonathan Edwards." (A portion of the executors' report of Edwards' estate is reprinted in Fowler 1887: 16).
In a letter, Edwards wrote in his own defense, "If [the critics of slave owners] continue to cry out against those who keep Negro slaves," they would show themselves to be hypocrites, because they too benefited from the slave trade. "Let them also fully and thoroughly vindicate themselves and their own practice in partaking of negroes' slavery," he charged, "or confess that there is no hurt in partaking in it," otherwise "let 'em own that their objections are not conscientious."
Edwards had a point: There was no escaping the influence of slavery in colonial times. Not only did most prominent colonial leaders have slaves, but most financial transactions, including many of Yale's original endowments, depended at some point on slavery.
Numbers in parentheses refer to notes. See the notes page.